Evgueni Polikarpov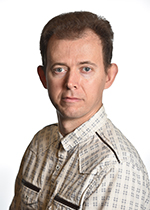 Pacific Northwest National Laboratory
PO Box 999
Richland, WA 99352
Send Email
Biography
In his research at PNNL, Dr. Polikarpov is focused on thin film solar cells and organic light-emitting devices (OLEDs). He demonstrates the principles of rational design of organic ambipolar host materials to build high power efficiency OLEDs. His work on photovoltaics has lead to improved efficiency in CdTe-based solar cells as a result of implementing multilayer window structures. He currently explores new absorber and window materials for thin film solar cells. Dr. Polikarpov has co-authored over 20 research publications.
Patents
US7834545B2 - Organic optoelectronic device electrodes with nanotubes
Research Interests
Organic and inorganic materials for thin film devices; applications of optical spectroscopy to optoelectronic devices; materials design, synthesis and processing.
Education and Credentials
Ph.D. in Chemistry, University of Southern California, Los Angeles, California, 2008
Diploma in Chemistry, Moscow State University, Moscow, Russia, 1998
Affiliations and Professional Service
Reviewer for major chemistry, physics, and materials science journals to include JACS, Chemistry of Materials, Organic Electronics, Chemical Communications, Journal of Luminescence.
NSF panelist.
PNNL Publications
2018
Butcher MG,

PA Meyer

, RT Hallen, KO Albrecht, CK Clayton, E Polikarpov, KG Rappe, SB Jones, and JK Magnuson. 2018.

"Fungal Metabolites as Precursors to Renewable Transportation Fuels."

Fuel

215

:123-141.

doi:10.1016/j.fuel.2017.10.052

Teyber RP, KD Meinhardt, EC Thomsen,

E Polikarpov

, J Cui, A Rowe, JD Holladay, and JA Barclay. 2018.

"Passive Force Balancing of an Active Magnetic Regenerative Liquefier."

Journal of Magnetism and Magnetic Materials

451

:79-86.

doi:10.1016/j.jmmm.2017.11.002
2016
Jiang X

, TJ Roosendaal, X Lu, O Palasyuk, KW Dennis, ME Dahl, JP Choi, E Polikarpov, M Marinescu, and J Cui. 2016.

"Mechanical and Electrical Properties of Low Temperature Phase MnBi."

Journal of Applied Physics

119

(3):Article No. 033903.

doi:10.1063/1.4939811

Das S, NY Martinez, S Das, RS Mishra, GJ Grant, S Jana, and

E Polikarpov

. 2016.

"Magnetic properties of friction stir processed composite."

JOM. The Journal of the Minerals, Metals and Materials Society

68

(7):1925-1931.

doi:10.1007/s11837-016-1881-6

Xie W,

E Polikarpov

, JP Choi, ME Bowden, K Sun, and J Cui. 2016.

"Effect of ball milling and heat treatment process on MnBi powders magnetic properties."

Journal of Alloys and Compounds

680

:1-5.

doi:10.1016/j.jallcom.2016.04.097
2015
Polikarpov E

, D Catalini, AB Padmaperuma, P Das, TL Lemmon, BW Arey, and CA Fernandez. 2015.

"A High Efficiency Rare Earth-Free Orange Emitting Phosphor."

Optical Materials

46

:614-618.

doi:10.1016/j.optmat.2015.04.013

Blochwitz-Nimoth J, A Bhandari, D Boesch, CR Fincher, DJ Gaspar, DW Gotthold, MT Greiner, J Kido, D Kondakov, R Korotkov, VA Krylova, F Loeser, MH Lu, ZH Lu, B Lussem, L Moro, AB Padmaperuma,

E Polikarpov

, VV Rostovtsev, H Sasabe, G Silverman, ME Thompson, M Tietze, YS Tyan, M Weaver, X Xin , and X Zeng. 2015.

OLED Fundamentals: Materials, Devices, and Processing of Organic Light-Emitting Diodes

,

ed. Dan Gaspar, Evgueni Polikarpov

. CRC Press/Taylor and Francis Group, Boca Raton, FL.
Fernandez CA, SK Nune, HV Annapureddy, LX Dang, BP McGrail, F Zheng, E Polikarpov,

DL King

, CJ Freeman, and KP Brooks. 2015.

"Hydrophobic and moisture-stable metal-organic frameworks."

Dalton Transactions

44

(30):13490 - 13497.

doi:10.1039/C5DT00606F
2014
Cui J, JP Choi,

G Li

, E Polikarpov, JT Darsell, MJ Kramer, N Zarkevich, LL Wang, DD Johnson, M Marinescu, Q Huang, H Wu, NV Vuong, and JP Liu. 2014.

"Development of MnBi permanent magnet: neutron diffraction of MnBi powder."

Journal of Applied Physics

115

(17):Article No. 17A743.

doi:10.1063/1.4867230

Cui J, JP Choi,

G Li

, E Polikarpov, JT Darsell, NR Overman, MJ Olszta, DK Schreiber, ME Bowden, TC Droubay, MJ Kramer, N Zarkevich, LL Wang, DD Johnson, M Marinescu, I Takeuchi, Q Huang, H Wu, H Reeve, NV Vuong, and JP Liu. 2014.

"Thermal Stability of MnBi Magnetic Materials."

Journal of Physics. Condensed Matter

26

(6):Article No. 064212.

doi:10.1088/0953-8984/26/6/064212

Cui J, JP Choi, E Polikarpov, ME Bowden, W Xie,

G Li

, Z Nie, N Zarkevich, MJ Kramer, and DD Johnson. 2014.

"Effect of Composition and Heat Treatment on MnBi Magnetic Materials."

Acta Materialia

79

:374-381.

doi:10.1016/j.actamat.2014.07.034
2013
Rainbolt JE, PK Koech, E Polikarpov, JS Swensen, L Cosimbescu, AL Von Ruden, L Wang,

LS Sapochak

, AB Padmaperuma, and DJ Gaspar. 2013.

"Synthesis and characterization of p-type conductivity dopant 2-(3-(adamantan-1-yl)propyl)-3,5,6-trifluoro-7,7,8,8-tetracyanoquinodimethane."

Journal of Materials Chemistry C

1

(9):1876 - 1884.

doi:10.1039/C3TC00068K

Swensen JS, LF Wang,

E Polikarpov

, JE Rainbolt, PK Koech, L Cosimbescu, and AB Padmaperuma. 2013.

"Near independence of OLED operating voltage on transport layer thickness."

Synthetic Metals

163

:29-32.

doi:10.1016/j.synthmet.2012.12.015
2012
Polikarpov E

, and AB Padmaperuma. 2012.

"Materials design concepts for efficient blue OLEDs: A joint theoretical and experimental study."

Material Matters

7

(1):2-8.
Cosimbescu L, L Wang, ML Helm,

E Polikarpov

, JS Swensen, and AB Padmaperuma. 2012.

"Electron Transport Materials: Synthesis, Properties and Device Performance."

International Journal of Organic Chemistry

2

(2):101-110.

doi:10.4236/ijoc.2012.22016

Lemmon JP,

E Polikarpov

, WD Bennett, and L Kovarik. 2012.

"Thin Metal Oxide Films to Modify a Window Layer in CdTe-Based Solar Cells for Improved Performance."

Applied Physics Letters

100

(21):Article No, 213908.

doi:10.1063/1.4722921

Swensen JS, LF Wang, JE Rainbolt, PK Koech,

E Polikarpov

, DJ Gaspar, and AB Padmaperuma. 2012.

"Characterization of solution processed, p-doped films using hole-only devices and organic field-effect transistors."

Organic Electronics

13

(12):3085-3090.

doi:10.1016/j.orgel.2012.07.045
2011
Cosimbescu L, E Polikarpov, JS Swensen,

JT Darsell

, and AB Padmaperuma. 2011.

"Hole-Rich Host Materials for Blue Phosphorescent OLEDs ."

Journal of the Society for Information Display

19

(4):353-359.

doi:10.1889/JSID19.4.353

Polikarpov E, PK Koech, L Wang, JS Swensen, L Cosimbescu, JE Rainbolt,

AL Von Ruden

, DJ Gaspar, and AB Padmaperuma. 2011.

"Controlling charge transport in blue organic light-emitting devices by chemical functionalization of host materials."

Journal of Photonics for Energy

1

:Art. No. 011007.

doi:10.1117/1.3528499

Swensen JS, E Polikarpov, AL Von Ruden, L Wang,

LS Sapochak

, and AB Padmaperuma. 2011.

"Improved efficiency in blue phosphorescent organic light emitting devices using host materials of lower triplet energy than the phosphorescent blue emitter."

Advanced Functional Materials

21

(17):3250-3258.

doi:10.1002/adfm.201100586

Swensen JS, JE Rainbolt, L Wang, PK Koech,

E Polikarpov

, AB Padmaperuma, and DJ Gaspar. 2011.

"Blue phosphorescent organic light-emitting devices utilizing cesium-carbonate-doped 2,4,6-tris(2',4'-difluoro-[1,1'- biphenyl]-4-yl)-1,3,5-triazine."

Journal of Photonics for Energy

1

:Art. No. 011008 .

doi:10.1117/1.3528003
2010
Polikarpov E

, JS Swensen, L Cosimbescu, PK Koech, JE Rainbolt, and AB Padmaperuma. 2010.

"Emission Zone Control in Blue Organic Electrophosphorescent Devices Through Chemical Modification of Host Materials ."

Applied Physics Letters

96

(5):Art. No. 053306.

doi:10.1063/1.3298556

Von Ruden AL

, L Cosimbescu, E Polikarpov, PK Koech, JS Swensen, L Wang, JT Darsell, and AB Padmaperuma. 2010.

"Phosphine Oxide Based Electron Transporting and Hole Blocking Materials for Blue Electrophosphorescent Organic Light Emitting Devices."

Chemistry of Materials

22

(20):5678-5686.

doi:10.1021/cm1013653

Chopra N, JS Swensen,

E Polikarpov

, L Cosimbescu, F So, and AB Padmaperuma. 2010.

"High efficiency and low roll-off blue phosphorescent organic light-emitting devices using mixed host architecture."

Applied Physics Letters

97

:033304.

doi:10.1063/1.3464969

Cosimbescu L, PK Koech, E Polikarpov, JS Swensen,

AL Von Ruden

, JE Rainbolt, and AB Padmaperuma. 2010.

"Molecular Engineering of Host Materials for Blue Phosphorescent OLEDs: Past, Present and Future."

In

SID International Symposium Digest of Technical Papers, Papers from the Annual Symposium, May 23-28, 2010, Seattle, Washington

,

vol. 41,

no. 1,

pp. 1887-1889

. Society for Information Display, Campbell, CA.

doi:10.1889/1.3500379

Koech PK, AB Padmaperuma, L Wang, JS Swensen, E Polikarpov,

JT Darsell

, JE Rainbolt, and DJ Gaspar. 2010.

"Synthesis and application of 1,3,4,5,7,8-Hexafluorotetracyanonaphtoquinodimethane (F6-TNAP): A Conductivity Dopant for Organic Light-Emitting Devices."

Chemistry of Materials

22

(13):3926-3932.
Koech PK, E Polikarpov, JE Rainbolt, L Cosimbescu, JS Swensen,

AL Von Ruden

, and AB Padmaperuma. 2010.

"Synthesis and application of pyridine-based ambipolar hosts: control of charge balance in organic light emitting devices (OLEDs) by chemical structure modification ."

Organic Letters

12

(23):5534-5537.

doi:10.1021/ol102444j

Wang L, JS Swensen,

E Polikarpov

, DW Matson, CC Bonham, WD Bennett, DJ Gaspar, and AB Padmaperuma. 2010.

"Highly efficient blue organic light emitting devices with indium-free transparent anode on flexible substrates."

Organic Electronics

11

(9):1555-1560.

doi:10.1016/j.orgel.2010.06.018

Wang LF, DW Matson,

E Polikarpov

, JS Swensen, CC Bonham, L Cosimbescu, JJ Berry, DS Ginley, DJ Gaspar, and AB Padmaperuma. 2010.

"Highly efficient blue organic light emitting device using indium-free transparent anode Ga:ZnO with scalability for large area coating."

Journal of Applied Physics

107

(4):043103.

doi:10.1063/1.3282526
2009
Polikarpov E

, JS Swensen, N Chopra, F So, and AB Padmaperuma. 2009.

"An ambipolar phosphine oxide-based host for high power efficiency blue phosphorescent organic light emitting devices."

Applied Physics Letters

94

(22):Art. No. 223304.
Bhansali US,

E Polikarpov

, JS Swensen, W Chen, H Jia, DJ Gaspar, BE Gnade, AB Padmaperuma, and MA Omary. 2009.

"High-efficiency turquoise-blue electrophosphorescence from a Pt(II)-pyridyltriazolate complex in phosphine oxide host."

Applied Physics Letters

95

(23):Art. No. 233304.
Koech PK,

LS Sapochak

, JE Rainbolt, L Cosimbescu, E Polikarpov, JS Swensen, LF Wang, AB Padmaperuma, and DJ Gaspar. 2009.

"Design of new anchored p-dopants for high power efficiency OLEDs ."

In

Organic Light Emitting Materials and Devices XIII: Proceedings of the SPIE

,

vol. 7415,

ed. F So and C Adachi,

p. Article No. 741505

. SPIE , Bellingham, WA.

doi:10.1117/12.827298

Padmaperuma AB, PK Koech, L Cosimbescu, E Polikarpov, JS Swensen, N Chopra, F So,

LS Sapochak

, and DJ Gaspar. 2009.

"Tuning charge balance in PHOLEDs with ambipolar host materials to achieve high efficiency."

In

Organic Light Emitting Materials and Devices XIII: Proceedings of the SPIE

,

vol. 7415,

ed. F So and C Adachi,

p. Paper No. 74150H

. SPIE , Bellingham, WA.

doi:10.1117/12.826905