David Gotthold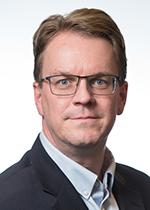 Pacific Northwest National Laboratory
PO Box 999
Richland, WA 99352
Send Email
Biography
Dr. David Gotthold joined Pacific Northwest National Lab in 2011 as a Chief Scientist to focus on developing new thin film manufacturing technologies for energy generation, storage and use. He has a Bachelor in Materials Science from MIT and a Masters and Ph.D. in Materials Science and Engineering from The University of Texas at Austin. He has over 30 published papers and 11 patents filed.
David has over 17 years of experience in thin film deposition and has spent the last 11 years developing improved manufacturing technologies to enable the transition from research to production. From 2000-2004, he was a staff scientist at Emcore in Somerset, NJ where he lead the development of MOCVD growth of GaN based electronic materials for foundry production and was the principle investigator for Emcore's DARPA Wide Bandgap Program. In 2004, he moved to Veeco Instruments in St. Paul, MN as Director of the Process Integration Center to focus on scaling research molecular beam epitxay (MBE) technologies onto production platforms. In 2005, he also took over new product development as Director of Development Engineering. He led the development of a next generation MBE growth system and several new source technologies to enable production scale vacuum thermal evaporation for the solar and organic LED markets. Key development efforts included designing sources and heaters for extreme temperature operation in corrosive environments, such as low pressure ozone, ammonia, and high temperature selenium vapor. This work included extensive material testing, vendor collaboration to develop new coating and composite materials, and novel system design to accommodate difficult to form and expensive materials. Other projects, such as the development of organic evaporation sources for consumer electronics applications required extensive customer interaction to validate application performance needs and cost of ownership models while achieving the rapid development cycles needed for market acceptance.
Research Interests
The development of a range of manufacturing ready thin film technologies, OLEDS for next generation lighting, advanced membranes for water separations and electrode materials for fuel cells.
Education and Credentials
Ph.D., University of Texas at Austin, 2000
M.S., University of Texas at Austin, 1997
B.S., Massachusetts Institute of Technology, 1994
PNNL Patents
U.S. Patent No. 10,656,287, May 19, 2020, "SYSTEMS AND METHODS FOR DATA STORAGE AND RETRIEVAL ".
U.S. Patent No. 10,295,677, May 21, 2019, "SYSTEMS AND METHODS FOR DATA STORAGE AND RETRIEVAL ".
U.S. Patent No. 9,919,264, March 20, 2018, "ENHANCED GRAPHENE OXIDE MEMBRANES AND METHODS FOR MAKING SAME ".
PNNL Publications
2017
Johnson K.I., M.J. Veenstra, D.W. Gotthold, K.L. Simmons, K.J. Alvine, B. Hobein, and D. Houston, et al. 2017. "Advancements and Opportunities for On-board 700 bar Compressed Hydrogen Tanks in the Progression towards the Commercialization of Fuel Cell Vehicles." SAE International Journal of Alternative Powertrains 6, no. 2:201-218. PNNL-SA-122239. doi:10.4271/2017-01-1183
2016
Devanathan R., D.G. Chase-Woods, Y. Shin, and D.W. Gotthold. 2016. "Molecular Dynamics Simulations Reveal that Water Diffusion between Graphene Oxide Layers is Slow." Scientific Reports 6. PNNL-SA-117768. doi:10.1038/srep29484
Fifield L.S., Y. Shin, W. Liu, and D.W. Gotthold. 2016. "Scalable Production Method for Graphene Oxide Water Vapor Separation Membranes." MRS Advances: Nanotechnology 1, no. 28:2091-2098. PNNL-SA-117497. doi:10.1557/adv.2016.485
Gotthold D.W., N. Browning, E. Jensen, A.G. Joly, and N.L. Canfield. 2016. Optically Stimulated Luminescence Based Optical Data Storage. PNNL-27989. Richland, WA: Pacific Northwest National Laboratory.
Nune S.K., D. Lao, D.J. Heldebrant, J. Liu, M.J. Olszta, R.K. Kukkadapu, and L.M. Gordon, et al. 2016. "Anomalous Water Expulsion from Carbon-Based Rods at High Humidity." Nature Nanotechnology 11, no. 9:791-797. PNNL-SA-112991. doi:10.1038/nnano.2016.91
Schwenzer B., T.C. Kaspar, Y. Shin, and D.W. Gotthold. 2016. "Spectroscopic study of graphene oxide membranes exposed to ultraviolet light." Journal of Physical Chemistry C 120, no. 23:12559-12567. PNNL-SA-116704. doi:10.1021/acs.jpcc.6b03033
Shin Y., W. Liu, B. Schwenzer, S. Manandhar, D.G. Chase-Woods, M.H. Engelhard, and R. Devanathan, et al. 2016. "Graphene oxide membranes with high permeability and selectivity for dehumidification of air." Carbon 106. PNNL-SA-112915. doi:10.1016/j.carbon.2016.05.023
2015
Blochwitz-Nimoth J., A. Bhandari, D. Boesch, C.R. Fincher, D.J. Gaspar, D.W. Gotthold, and M.T. Greiner, et al. 2015. OLED Fundamentals: Materials, Devices, and Processing of Organic Light-Emitting Diodes. Boca Raton, Florida:CRC Press/Taylor and Francis Group. PNNL-SA-106310.
Sevigny G.J., R.K. Motkuri, D.W. Gotthold, L.S. Fifield, A.P. Frost, and W. Bratton. 2015. SEPARATION OF TRITIATED WATER USING GRAPHENE OXIDE MEMBRANE. PNNL-24411. Richland, WA: Pacific Northwest National Laboratory. SEPARATION OF TRITIATED WATER USING GRAPHENE OXIDE MEMBRANE
2013